General Classroom Information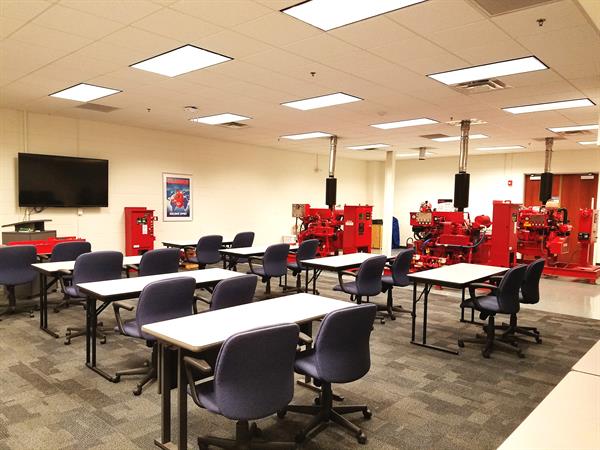 Our classroom and training lab is located at the Clarke Fire Protection Products Global headquarters at 100 Progress Place, Cincinnati, OH 45246. The working lab has a running mechanical injection and electronic injection engine with controllers. All training sessions blend classroom lecture with "hands-on" experience on live engines at the appropriate times.
Training session enrollment is completed online for the Application, Installation and Start-Up Service Class and Advanced Service, Diagnostics and Repair Class. A Training Confirmation will be emailed to you as soon as Clarke Fire Protection Products verifies your enrollment. A payment link will also be included in the confirmation email.
Classes can be tailored to meet the specific needs of Clarke Fire Protection Products customers.
All classes start at 8:00 am and conclude daily at approximately 4:00 pm EST.
Training sessions are typically one to two days in duration.
Clarke Fire Protection Products reserves the right to cancel or reschedule any class.
2020 Training Dates
Application, Installation and Start-Up Service Class
February 18, 2020
April 21, 2020
June 16, 2020
August 18, 2020
November 17, 2020
Advanced Service, Diagnostics, and Repair Class
March 17-18, 2020
May 19-20, 2020
July 21-22, 2020
September 15-16, 2020
November 17-18, 2020
Recommended Hotels
Courtyard Cincinnati North at Union Centre
6250 Muhlhauser Road
West Chester Township, OH 45069
513-341-4140 Phone
Hampton Inn & Suites Cincinnati - Union Centre
9266 Schulze Drive
West Chester Township, OH 45069
513-341-2040 Phone
Comfort Suites
1234 Omniplex Drive
Cincinnati, OH 45240
513-551-5030 Phone
Recommended Transportation
Executive Transport
800-990-8841